The Focus Principle and Law Firm Profitability
LawyerMetrix (LMx) has been busy studying factors that differentiate the more and less profitable law firms.  One of our takeaways is that focus is a key differentiator.  On several dimensions, we find that – at least for firm profitability – less is more.
To preview these insights, consider our conclusion regarding "practice focus" – i.e., having a concentrated set of practice area offerings.  We find a sizable average return on investment in focusing a firm's practices.  
Figure 1 illustrates our estimate of the practice focus effect.  In particular, it reports the simulated effect of changing from low to high practice focus on average partner compensation.  The more frequent simulated values (taller bars, or "counts") reflect effects on compensation that are more likely to occur.  On average, the effect of practice focus is an increase of about $250K in average partner compensation.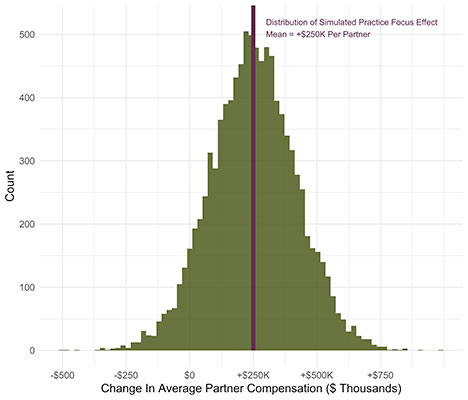 LMx will continue to share our insights about how focused strategies drive profitability in the coming months.  We hope you will check back often.